Boise Crime Rate – Is Boise as Safe as It Feels?
Low Crime Rate, Strict Reporting: Boise Plays It Safe
Boise recently landed at No. 7 on Business Insider's list of
20 Safest Cities in America, and if you were to tell that to a native, it would come as no surprise. They would probably nod their head in agreement or shrug and say, "That makes sense." That's because, without even looking at the numbers, Boise simply feels safe.
Fortunately, the numbers only serve to back up that gut feeling. Boise consistently checks in lower than the national average on the crime index, and that already low crime rate has been
dropping at a rapid pace for the past ten years. In fact, crime in Idaho has dropped nearly 50 percent since 1994.
These days, Boiseans can enjoy walking the city streets alone knowing that
the odds of falling victim to a crime are about 1 in 36 (numbers that are especially comforting when compared to our neighbor, Portland, where the odds of becoming a crime victim are about 1 in 18).
So, what does Boise crime look like?
Find an
overview here. But we'll break it down for you:
You can take comfort in the fact that your odds of being murdered in Boise are extremely low. In fact, in the past few years, Boise has seen about five murders total (less than 1 murder per every 100,000 people per year). The national average for murders per every 100,000 people is currently hovering around 4.5—about four times higher than Boise. That being said, we've had our moments. In 2007, Boise experienced no less than 10 murders, and 7 more in 2009.
But low crime is the standard for Boise across the board. Robbery, assault, burglary … Boise falls far below the national average in nearly every category.
You might notice that Boise's list of registered sex offenders is rather long—topping out at more than 700—but those numbers aren't exactly what they seem. Stricter-than-most sex offender laws land Boise offenders on the registry for life, and a lower tolerance threshold means that more minor offenses make the list. With that in mind, it's important to note that while Idaho's list of sex offenders is longer than some, the number of violent sexual predators is actually quite low—it tops out at about 30 for the entire state, 14 of which
reside in the Treasure Valley.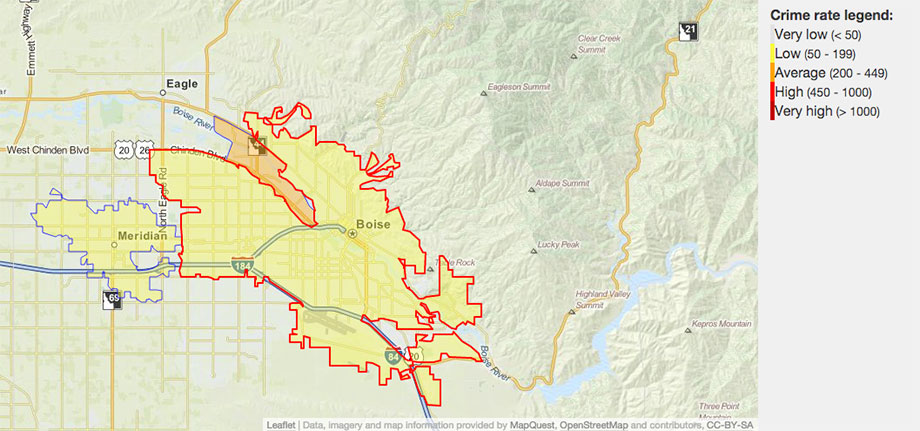 What's the crime capital of Idaho?
In most cases, state crime tends to be clustered around the state's biggest city—and it makes sense: The higher the population, the higher the crime rate. But Idaho is a bit of a different beast.
While Boise boasts a crime rate (average number of offenses per every 100,000 people) of about 198 on the crime index (down from 307 in 2002, we might add), our neighboring town, Garden City, lands somewhere north of 400, and Nampa/Caldwell, notorious for their "other side of the tracks" vibe rock a 283/351 crime index respectively—making Boise's 198 seem not so bad (especially compared to Portland's 369).
But that's nothing compared to Ponderay's 580 (which hovered around 700 for several years between 2001 and 2008). Ponderay, Idaho, home to just over 1,000 people (and just one sex offender) currently holds the title of "crime capital of Idaho."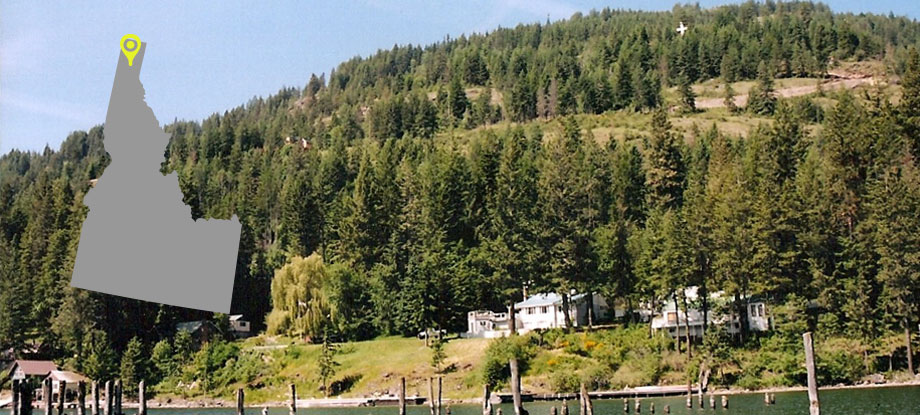 Why?
This article has the full scoop, but in a nutshell…it's not the Ponderay residents who are to blame, it's the tourists. It's the thousands of people who visit Ponderay on a daily basis—the thousands of people from neighboring small towns who flock to Ponderay as "the shopping center of Idaho's panhandle" … and shoplift from Ponderay's stores.
While violent crime in Ponderay is virtually nonexistent (they haven't seen a murder in several decades, and their property crime rate is equally as low), their shoplifting numbers and theft index is through the roof! Of course, this only serves to showcase the fact that crime rates are not always what they seem.
What about drug use in Idaho?
Unfortunately, along with a higher crime rate, Idaho's rural areas tend to see higher drug abuse as well—specifically methamphetamine. And
meth abuse in Idaho has been climbing since 2003. (We're not alone, while national meth trends are on the decline,
meth abuse continues to climb in the West.)
In 2005, Idaho was near the top of the list of states that reported the highest increase in arrests due to meth, and, in 2007, more than 70 percent of Federal drug offenses in Idaho involved methamphetamines. On top of that, more than half of Idaho's prison inmates are incarcerated due to problems with meth (and by "problems" we mean trafficking, producing, or abusing methamphetamine), and more than 80 percent of child placements by the Department of Health and Welfare are directly related to drug abuse (specifically meth).
That being said, we know it's a problem, and in an effort to solve it, Idaho spends more than $500,000 per month on methamphetamine-related treatment. On top of that, the
Idaho Meth Project has been working hard to reduce and prevent meth use in Idaho, especially in teens … and they've seen some great success. In a 2010 survey, they found that 65 percent of Idaho teens believe there is "great risk" in taking meth just once and 88 percent strongly disapprove of trying meth (not even once).
As for non-meth-related drug abuse in Idaho, no, marijuana isn't legal here, but it is the most commonly cited drug in the state … and Idaho certainly isn't exempt from the fastest growing drug problem in the nation: prescription meds. In fact, we (along with most of the west coast) fall somewhere on the higher end of the spectrum (with 5-7% of Idaho inhabitants admitting to using prescription drugs in the past month (based on a
2008 survey).
On the bright side, according to a
more recent survey, Idaho adolescents are less likely to pick up cigarettes and more likely to try to quit if they do. They're less likely to drink, less likely to try marijuana, and less likely to get in a car with someone who is under the influence (compared to the national average).
---
The views and opinions expressed in this article are strictly those of its authors and were not written by Realty Boise. This article was originally published by TSheets.